LSP Faculty Member Highlight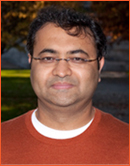 For September, we are highlighting HiTS Faculty member, Dr. Vishal Vaidya. Vishal is an Assistant Professor of Medicine and Environmental Health at HMS, Head of Toxicology in the LSP, and Director of the Lab of Kidney Toxicology and Regeneration at Brigham and Women's Hospital.   Many awards testify to Vishal's expertise biomarker discovery and the early detection of injury in the kidney and liver: he is the recipient of the Society of Toxicology Leading Edge in Basic Science Award, the NIH/NIEHS Outstanding New Environmental Scientist Award, and was one of only six North American scientists to win the Innovation in Regulatory Science Award from the Wellcome Fund.  
Aside from his packed scientific schedule, Vishal cares deeply about mentorship and takes pride in teaching and advancing the careers of his students.  While his lab has grown to span multiple institutions, Vishal still makes time to teach the annual Biomarkers Course in partnership with Harvard Catalyst and a semester-long course in Toxicology.  
Some more facts about Vishal
What is your favorite hobby or food?
Favorite hobby: reading books to my 6 and 4 year old kids
Favorite Food: mutton curry
What do you like best about your work here in the LSP?
I have no idea how to do what 90 % of the people in LSP do – that is computational modeling, single cell imaging, quantitative proteomics. This is what I like the most about LSP because it gives me a chance to learn new things.
What accomplishment are you most proud of (work related or otherwise)
I am most proud of being able to 'pay it forward'. An accomplished scientist and mentor transformed my life when I came to the US in 1998 and the fact that I am able to advance peoples careers in my laboratory gives me a lot of satisfaction apart from obviously doing impactful translational research.